Understanding and Implementing FAST Agile.
Fluid Scaling Technology is a way for people to self-organize around work – that scales.
Instructor/trainer/facilitator: Per Beining
Practical: 2 days, 9 AM till 5 PM, with regular breaks, lunch, and coffee breaks included.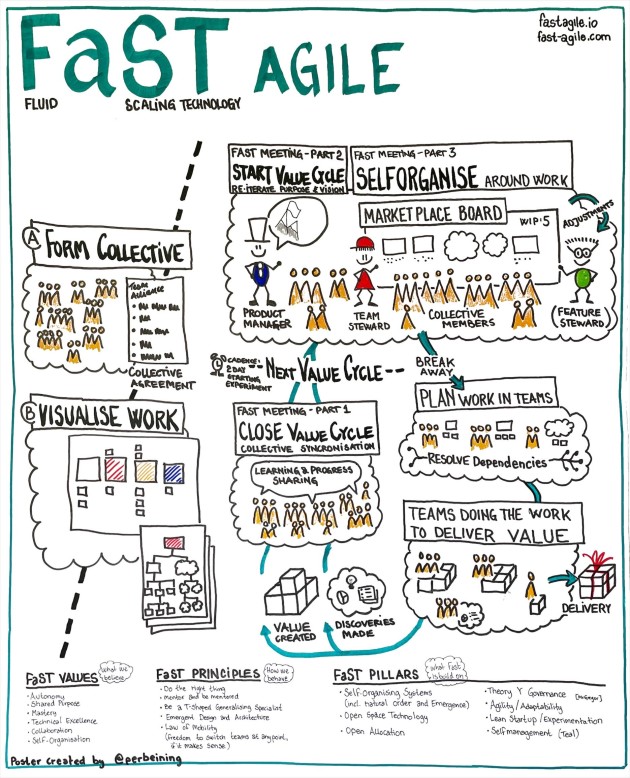 Course Overview
This two-day, in-person, instructor-led, activity-based class is geared to deeply understanding Fluid Scaling Technology (FAST). It will cover FAST's what, why, and how, including how to start and common pitfalls to avoid.
The style of this class will follow a plan but not in a highly controlled or structured way. Instead, we will allow for the group's interests and needs to determine the content and pace – and allow for emergence.
What Will be Covered
The FAST Operating Model comprises a central core and several supporting components.
FAST at its Core
What is FAST
Roles
Meeting
Flow Cycle
Complexity
Dynamic Reteaming and how it plays out
Things to Help Make FAST Work (Non-core Components)
Modern Product Management
Visualizing Work (and Complexity)
Forecasting Mechanisms
Reflect and Improve in a dynamic reteaming environment
Self-management and New Ways of Working (Teal)
Small scale, Large Scale, Portfolio Scale FAST
Mastery
Where to Start
Small or Large Scale?
Building a Collective
Experiments and Methods to introduce and start a FAST experiment in your org
Pitfalls to look out for & what can kill your experiment
FAST as a Replacement for Scrum
FAST and SAFe?
Why FAST Works, is So Different to Everything Else, And Why It is Needed Today
Network Organizational Theory
Dynamic Teaming
Wisdom of crowds, Collective Intelligence
The Surprising Truth About What Motivates Us
Business Adaptability
There will be a certificate of attendance for the class.
Who Should Attend this Class
Agilistas, Network Design Pioneers, Product Managers, You!
Event listing